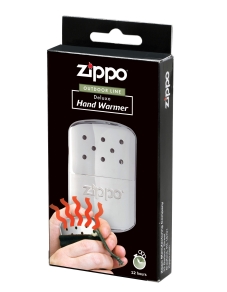 Great Gift
ABOUT THE ZIPPO HANDWARMER

The Zippo hand warmer works only by platinum catalysis, which causes
neither air pollution nor occurrence of waste and contributes to environmental protection. Very clever and works well.

The platinum-catalyzed glass fibre burner offers quick and sure lighting.

The unit gives constant warmth for 12hrs on just one fill (2 cups=25ml) of fuel (lighter fluid)

Useable even in extreme cold -40c and produces 5 times as much heat as a disposable warmer. The unit is designed to be reusable.

Ideal to keep you warm when out shooting!

Top quality kit.

Full Instructions included.

Comes boxed.