Black Bag (Daystate Logo)
Plain black bag with Standard daystate logo, your name could go below the logo following the curve or straight.

Daystate Logo on Grey Bag
Daystate logo on a grey bag. This colour would be great for a Timberwolf owner, you could add your name, 'Timberwolf' and/or the serial number of your gun. Whatever you want pretty much.

Contact us for details.
Pastel Pink Bag
This one is a one off pastel pink with Quarry Hunters logo.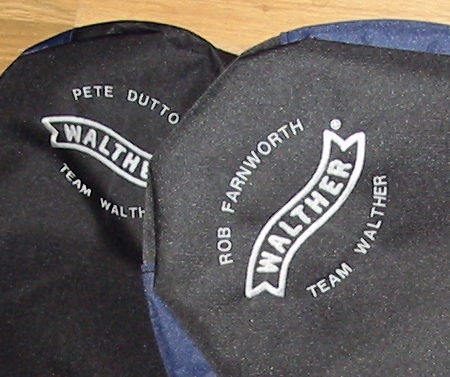 Team Bag
If you would like bags or indeed any item, personalised for your team then please get in touch. Just about anything is possible and discounts may apply for quantities.
Red Bag
Red Bag with MAD logo and additional side embroidery.

MORE TO FOLLOW WHEN WE HAVE CHANCE TO UP LOAD THE PICTURES